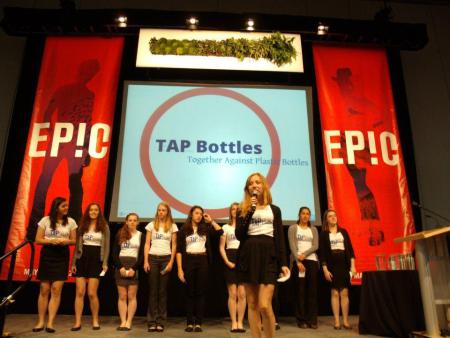 Together Against Plastic Bottles is a non-profit organization based out of North Vancouver, Canada with the goal of eliminating plastic bottles from their school and local community. Tap Bottles was founded by a small group of youth from my high school, and currently has 10 members. I have been an active member of the TAP team ever since coming back home from the 10th Pangaea USA Expedition in December 2011.
In order to accomplish our goal, we have implemented three main components to our work:
1. Awareness & Education : We tell people about the many health, environmental, social, and economical issues surrounding single-use plastic water bottles. We are putting this into effective action by presenting to local high schools, elementary schools, and other organizations. Recently, we spoke at EPIC Vancouver Environmental Sustainability Expo.
2. Alternative : We show people the simplicity in to avoiding the use of plastic water bottles. To accomplish this we are selling our stainless steel, BPA free reusable water bottles with the TAP Bottles "This makes one less" logo.
3. Stopping Sales : We are working to discontinue the sales of plastic water bottles in vending machines and cafeterias in schools within the North Vancouver District 44. We are currently partnering with the School Board to further promote the ban of plastic water bottles, and reviewing certain existent contracts with suppliers.
Please like us on Facebook for more info: https://www.facebook.com/TAPBottles.TAPBottles
BBQ Against Bottles
On May 27th, TAP Bottles had their first event ever, called the "BBQ Against Plastic Bottles." The purpose of this event was to raise awareness within our community, and to raise funds to install a water bottle refill station at Confederation Field in North Vancouver. It was a great success as we were able to raise 640 dollars towards the refill station, and had approximately three hundred people attend. During the event, there were various donated food items on sale, live music performances, a silent auction, and face painting and colouring for children. With the help of the Green Planet Project, our event also was zero waste! We featured various environmental organizations, and they set up stands during our event. This includes: Pacific Wild, CPAWS, Super Forest, Life Plastic Free, Artquake etc.
Oh, and of course, we had a Pangaea Young Explorers booth!
Kate Wootton, and I ran the booth, and had the opportunity to speak to many different people in my community about the Pangaea program, and raise funds for the Mike Horn Challenge by selling the lovely Pangaea postcards! (Shout out to Dima, you rock!) I loved being able to showcase my personal experiences from my selection camp and expedition, while feeding off Kate's fresh enthusiasm towards her near future adventures in Africa and recent trip to Switzerland. A huge thank you to Kate for coming out and supporting our cause!
Quick Info:
YEPs involved: Kate Wootton, Aya Anholt

Date: 28th May 2012

Location: Vancouver, Canada