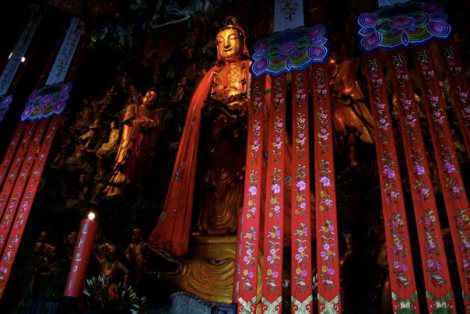 Part I: Shanghai 
[slideshow]
After one full year abroad, getting a taste of freedom and independence, I've made my way back to Switzerland, the starting point of a journey that has changed my life in ways I may not have even fathomed yet.
It will take me more than this one short blog post to tell you about the experiences I've had and the wonderful people I've met along the way but let me scratch the surface and give you a sneak peek into the world that kept on unfolding itself to me over the past 365+ days.
After having had the privilege to be part of the expedition to Mongolia and spending three weeks in some of the remotest places, I touched down in the bustling city of Shanghai for a week.
No need to say that the metropolis hit me at its best. Not only the sheer amount of people (after weeks in the company of my expedition team and some rare encounters with nomads and herders in the desert-steppe), but also the relentless humidity in the city wore me out during the first couple of days. As summers in Japan are similarly clammy, it didn't take me too long to adapt to the climate which made my stay very enjoyable, despite the constant flow of sweat and wet clothes sticking to your skin.
It was exciting to explore Shanghai. – The smells, the sounds and the visual stimuli gradually brought me back into organized civilization. I had a whole week I could dedicate to leaving my footsteps on Shanghai's boulevards and hidden alleys, as my ferry bound for Japan would only leave the following Tuesday.
I barely took the metro and preferred long days of walking. Another highlight was catching up with Felix. It was my first time to meet him but it felt as if we had known each other for a long time already, as hours flew by talking about this and that at a nearby café.
Shanghai is a very vibrant city in many ways.- Ornate temples and hawker stalls juxtaposing with high-end boutiques and shopping malls, beggars crouching beside the limousine service, the skyscrapers of Pudong, the megalopolis' business district, and decomposing barracks, hip artists enjoying a cup of tea next to traditional monks.
The collision of two extremes remained a constant. – Poverty versus decadent luxury, open sewers versus marble pavements, tradition versus modernity. Maybe this is what communist capitalism looks like?
It will be a whole different story but Shanghai has definitively awakened my curiosity to further explore the vast hinterland of China as well.
Xie xie, Shanghai. I'll be back.
This was escapade No. 1 opening my twelvemonth.
Stay tuned for my next blurb about my oceangoing way to Japan and arrival in the Land of the Rising Sun.
Quick Info: