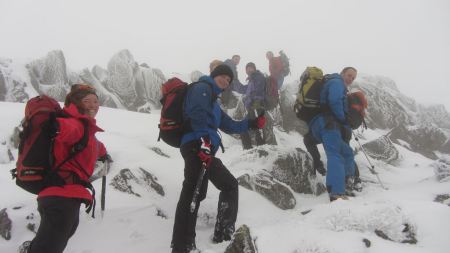 "Constantin, keep up with the group!" … I just saw white … white clouds, white snow on the ground and in the air, a strong wind from the side and a mountain guide standing next to me waiting that I start walking again. Literally just a second long I have been cleaning my camera lens as the wind has blown the snow everywhere. Only over a length of 5 meters I could see a line of foot-steps. The whole group disappeared in that direction in total white-out conditions. Everyone followed the track from our guide who was breaking trail in the knee deep snow.
                                                                           Do you want to navigate?
After a couple of quick steps along the foot-steps I saw again the back of the group – wow, they really have been just 10 meters away, but I didn't see them before.
A moment later everyone stopped and the guides who know each rock in this area came together to check the map. In the total white-out, there were no landmarks so it was extremely hard to navigate. They knew that we were very close to the summit of one of the fourteen peaks. We started again walking for a moment and were ending up on the summit … at least we think it was the summit as it was going down in all directions around us.
While I was asking for all your votes, keen on going to Wales for the Fourteen Peaks Challenge, I never expected to have such alpine conditions. Looking back on the extreme experience, I am really glad that the conditions were so tough. Being safe in the hands of amazing mountain guides from Plas y Brenin – National Mountain Center I could learn and get more confidence in my winter hiking skills which I would have not gained during a summer walk over the fourteen peaks.
The group has been a great, sportive bunch of people from Great Britain, Belgium, Poland, Romania and Germany who got selected about the Experience Tour online or over different application processes from outdoor magazines. It was great to talk to everyone as we all came from different backgrounds and had different experiences in the past.
                                                                           The team is hiding for the white…
All in all I have to say that I was surprised that I didn't walk in the rain in Wales (as it was just snowing :D), I gained more confidence in serious mountain conditions, I got a wonderful Mountain Equipment jacket and no one feels bad about the fact that we just climbed nine of the fourteen peaks as the conditions didn't allow for more.
Thank YOU again so much for all your votes, in my opinion it was really worth it as it meant a lot of fun, sun and snow blizzards for me 😀
What a great GORE-TEX Experience Tour!
                                                                           Nice ice formations along the track
                                                                           Hiking along the ridge…
                                                                           Summiting another peak – we also had a sunny day
                                                                           Testing the wind-proof of my Gore-Tex jacket – it works!